Last week we covered a story from Mumbai, wherein an 18-year-old male student was allegedly falsely implicated in a molestation case by his neighbour, a 47-year-old woman. According to the boy, the two were frequently fighting over the woman's cats and the boy had accused the lady of attacking him first.
Now, in a massive expose, documentary filmmaker Deepika Bhardwaj has shared a couple of audio recordings that allegedly carries the chat between Animal Rights Activist Lata Parmar and others. The audio exposes serious charges of how certain activists have been guiding women to file false molestation complaints against men, either to settle score or to recover money.
Audio 1: Lata Parmar to Another Woman
I will file a complaint copy on your behalf at Andheri police station. You have to tell them that the boy is threatening to kill you. Besharam hone ka…Dial 103 and tell them man is beating me, police will come immediately. Tell police that the boy is harassing me. Its not my problem that there is no CCTV, you have to help me.

Tu tarak se baat karne ka…..tell him I am a woman, you are a man, I can do anything. Tell police, man is instigating everyone against me in society.
Bhardwaj quoted the above video tagging Mumbai police, Maneka Gandhi (with whose NGO the activist works) and People For Animals India Twitter Handles and wrote,
MUMBAI : Listen how Lata Parmar guides women how to file false molestation, attempt to murder, stalking charges against men if any objection to a stray animal in raised. She intimidates people using name of @Manekagandhibjp, women commission & works with @pfaindia. Many Victims

Is this Animal Rights Activism @pfaindia? Implicating 18yr old boy, 84yr old men in false cases in name of protecting animals? I seriously urge you to investigate this matter. I am ready to provide all support. Please speak to folks she's falsely accused before. Unacceptable
ALSO READ –
Audio 2: Lata Parmar Trying To Implicate AC Repairer For Recovering Money
LP: "I need a minimum amount, I am a woman I can do anything. I will instigate him so he also abuses me. I will then call 103 and call police. If he gives me money its fine, else I will trap him. I can do it since I am a woman. I need my Rs 10k else will charge him under 503 and 504 (sections for women). I can make scratch marks on my hand and create evidence. Police will become more strict looking at them. He will give me Rs 10k anyhow then. Its my right…"
Unknown Man: "How will you make marks on your body?"
LP: "I will make it with my nails. Will make it in a way that he has hurt me, then he will be trapped."
Bhardwaj once again asked Mumbai police to take action and wrote,
Anodr audio shared with me of @Latapar24627339 where she's talking about implicating an AC repair guy in false molestation case cuz he didn't repair AC as per her satisfaction. "He will either pay me 10K or I'll book him under molestation charge. That's d plan" @MumbaiPolice
ALSO READ –
Not just this, Bhardwaj also raised an alarm questioning Maneka Gandhi about how she had been intimated about Lata Parmar's activities, yet the same was dismissed by former union minister calling Parmar "extremely effective and good activist who knew the laws." While sharing the leaked email reply by Maneka Gandhi, Bhardwaj quoted,
Dear @ManekagandhibjpJi U were informed about @Latapar24627339 intimidating & falsely accusing tactics & evidences provided but you dismissed it just because informer is anonymous? M sure u get why whistleblower is anonymoys. Cuz she will get back with false charges again.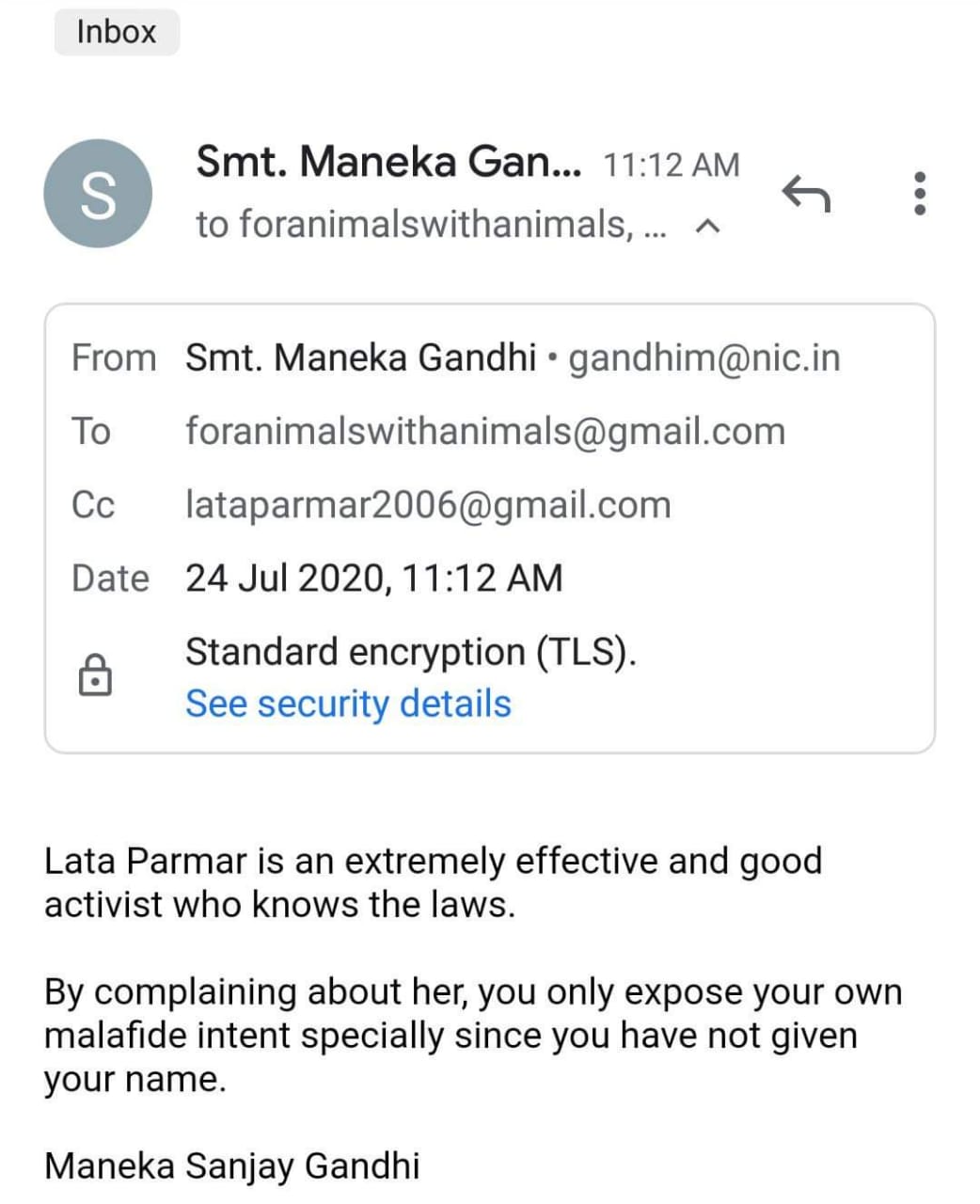 It is a matter of time if Maneka Gandhi intervenes to set any example against the accused activist, or whether the matter will be brushed off to keep the deeper muck buried.
Story Updated On August 2
People For Animals India Twitter Handle has taken cognisance of the matter and replied,
The matter has been brought to the notice of Smt. Gandhi. People for Animals condemns any such behaviour in the strongest terms. Appropriate steps will be taken.
The matter will be followed up by MDO until there is strict action on the concerned woman.
Hear Full Audio
Read Story Linked To The Case:
47-Year-Old Mumbai Woman Files False Molestation Case Against 18-Year-Old Boy After Fight Over Her Cats
We are now on Telegram. You can also join us on our Facebook Group